When it comes to cabinets, hardware is both functional and decorative. Hinges , drawer slides , and latches fall into the functional category, although they can still add visual impact if you choose exposed versions like surface mounted hinges. 
In the cabinet building industry, the hardware that attaches to the fronts of cabinets and drawers is referred to as decorative hardware. There are infinite options for handles and knobs, and the choice is largely aesthetic. The hardware should fit the personality of the home, any existing cabinet or drawer fronts, and the homeowner's preference. It's the last item to install but is an important final touch.
Knobs and handles
Knobs and handles are the two most common types of decorative hardware. You can mix and match knobs or pulls to add visual interest, or use only one type of hardware throughout all of your cabinets and drawer fronts for a consistent look.
Knobs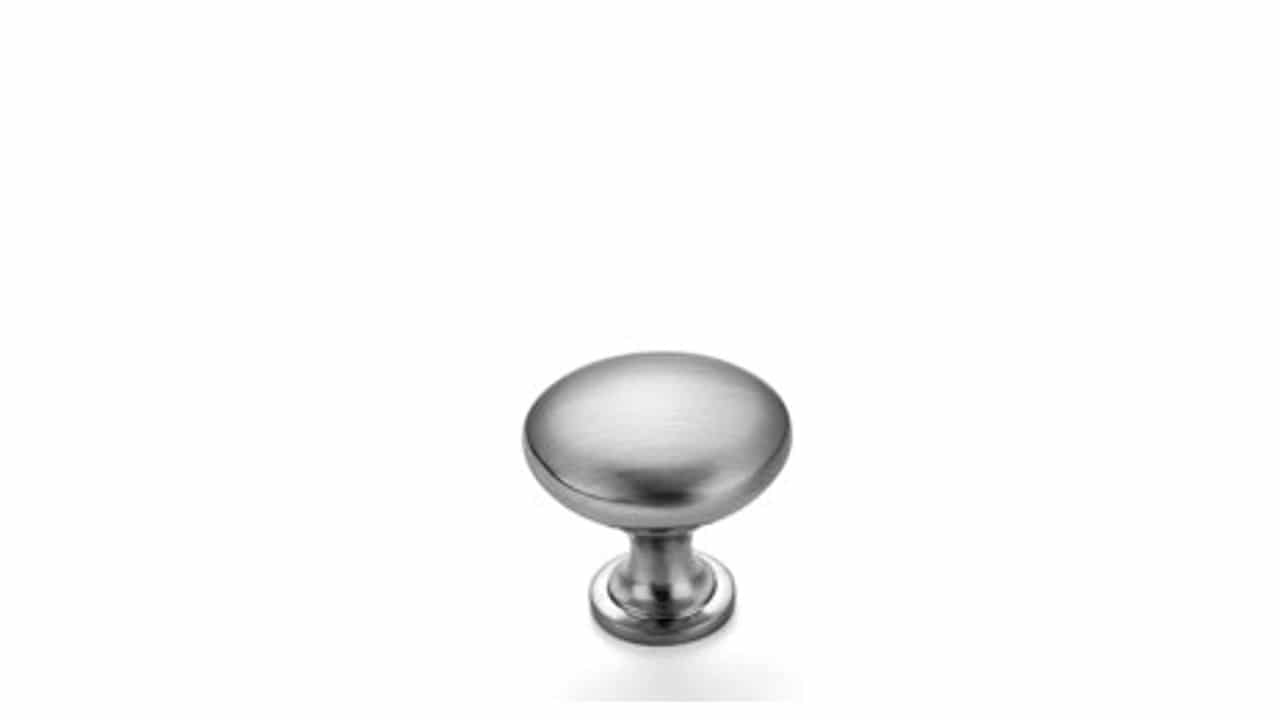 Cabinet knobs are mounted to the exterior of the cabinet door panel and are a simple, easy to install option for opening and closing your doors. They are most commonly used on cabinets fronts, but they can also work for small drawers. They only require a single screw to install and come in a wide range of sizes, styles, materials, and finishes. Knobs come in many shapes such as mushroom, plate, globe, square, plate, and novelty but all are designed to be easy to grab.
Handles or pulls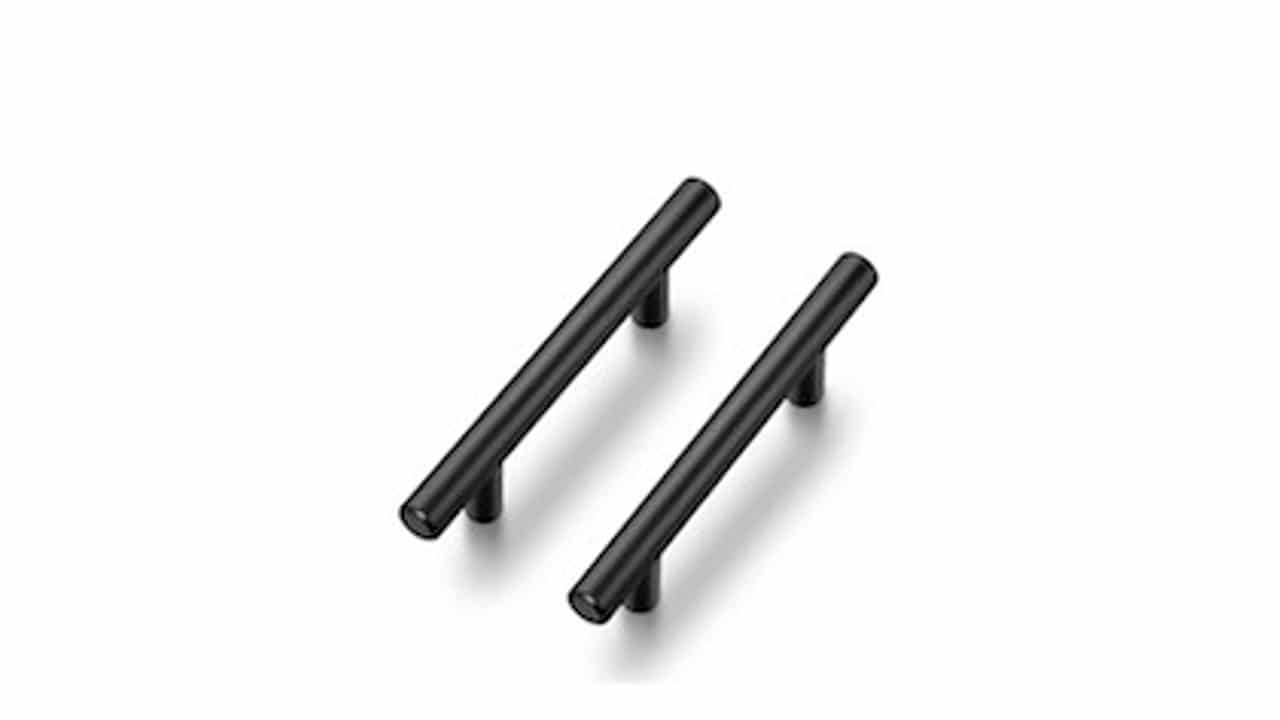 Handles are also often called pulls. They work well for opening and closing drawers and larger cabinet doors where a small knob might not provide enough grip. They require two screws to install. Like knobs, they come in a vast array of styles and shapes such as bars, rings, arched, bail, cupped, and novelty. Some specialty handles are designed to be recessed into the door panel. If using this type, it's best to install them in the shop before installation since they require more tools to fit and attach properly.
Styles
Knobs and pulls come in a range of styles from traditional styles like farmhouse, all the way to eclectic styles like bright colors—and even novelty styles for themed rooms. The most common styles are traditional, transitional, and modern.
Traditional or heritage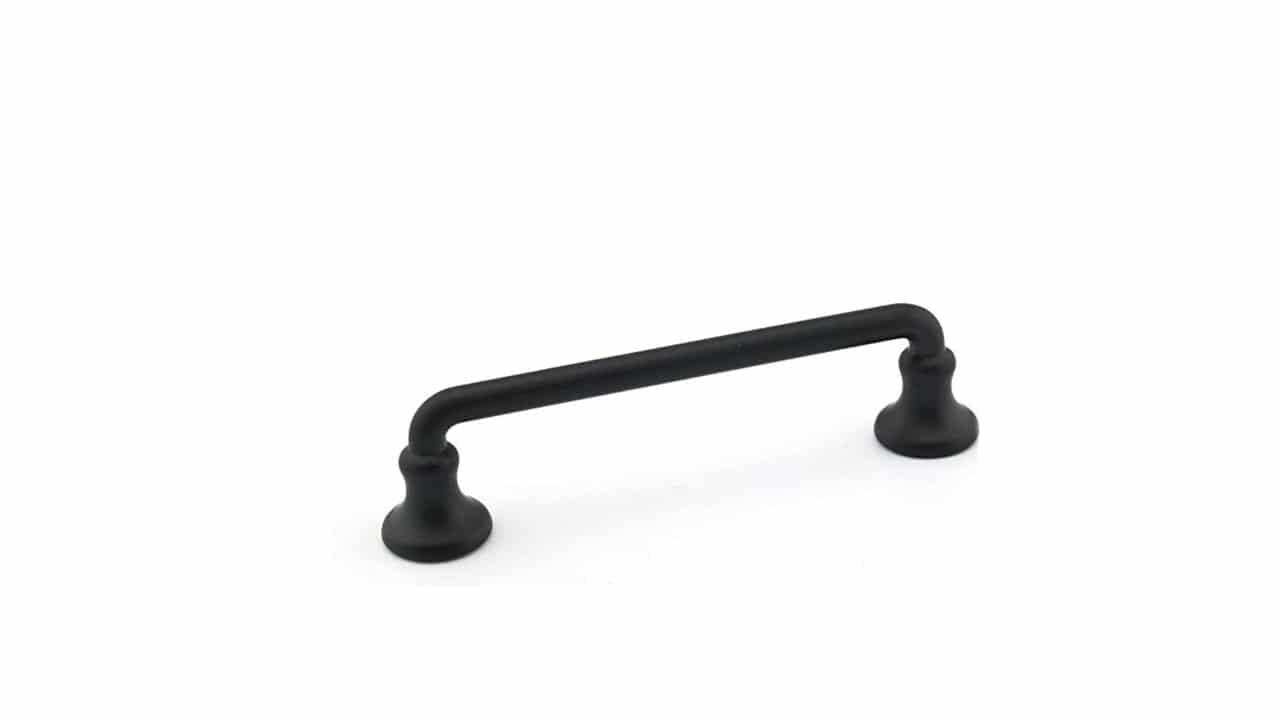 Traditional or heritage styles encapsulate styles like farmhouse, rustic, and craftsman. The finishes tend to be similar to the cabinet color or highlight the cabinet color which is often a wood finish rather than painted. Hardware in this style tends to be more ornate and embellished but the shapes remain simple like hammer squares and rounded pulls with common finishes in copper, bronze, and iron.
Transitional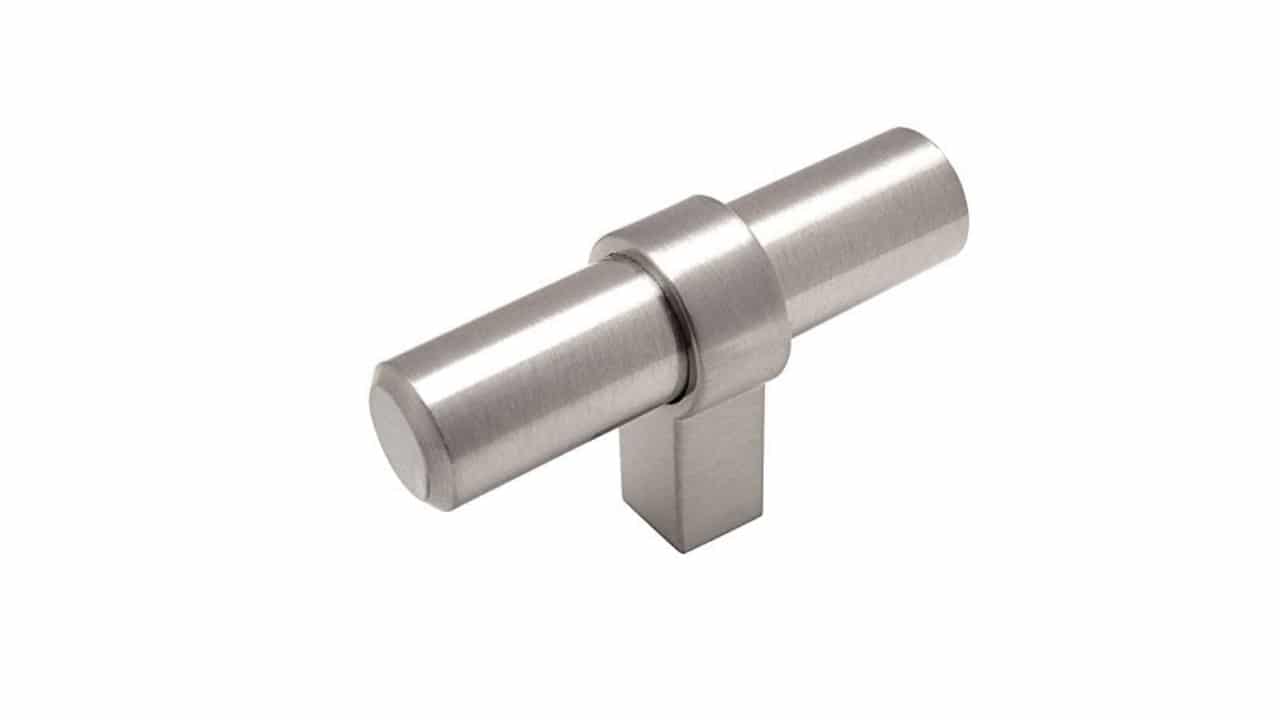 Transitional styles are just that—a transition between traditional and modern styles. They feature clean metal finishes softer than modern styles, pops of color, and sometimes mixed textures and materials. Traditional with a twist and work well in contemporary homes.
Modern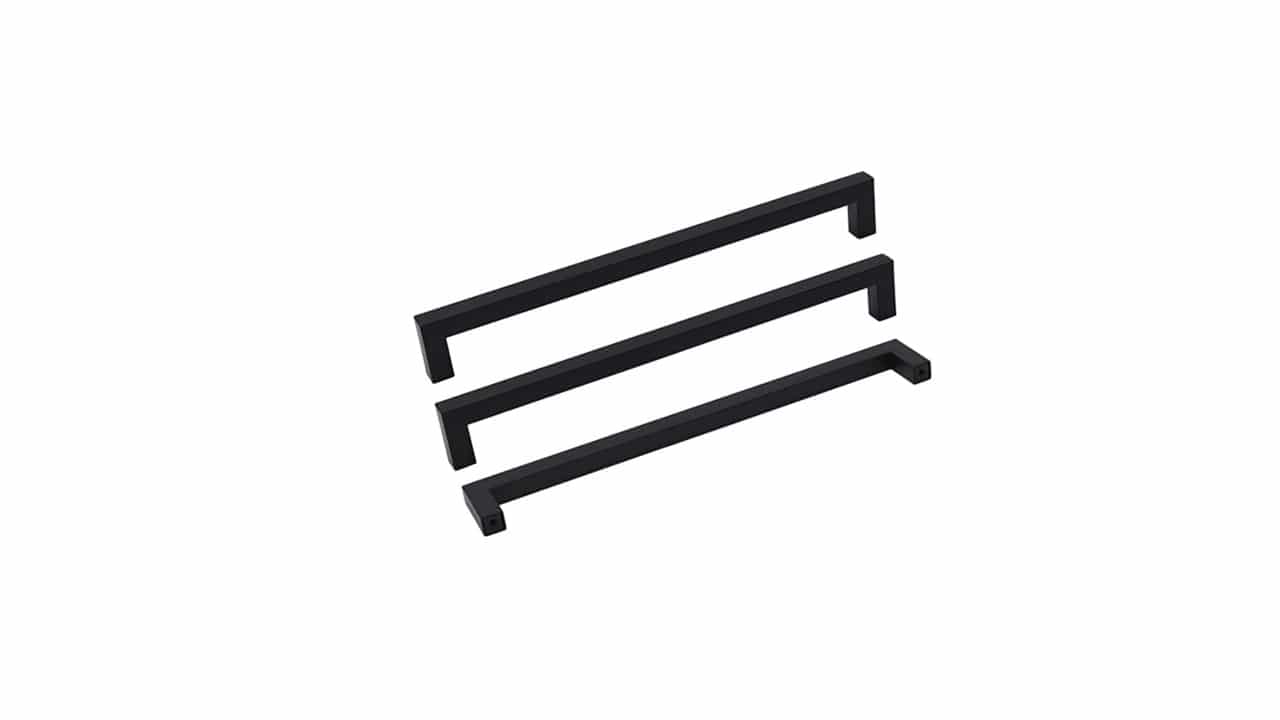 Modern styles are smooth, sleek, and clean with starker angles. They offer more contrast that traditional and transitional styles for a more dramatic look. They are often in brushed or dark metal finishes and minimalistic in style.
Finishes
Knobs and handles are available in almost any finish you can think of including unfinished wood knobs that you can paint any color you'd like. You can mix finishes for a more eclectic look or even pick one finish, like metal, and mix within that category. Slick finishes are easier to clean and therefore recommended for kitchen cabinets that will get a lot of contact. Some brass handles are unlacquered which will patina nicely with age and use. This type of finish is called a "Living Finish."
Stainless steel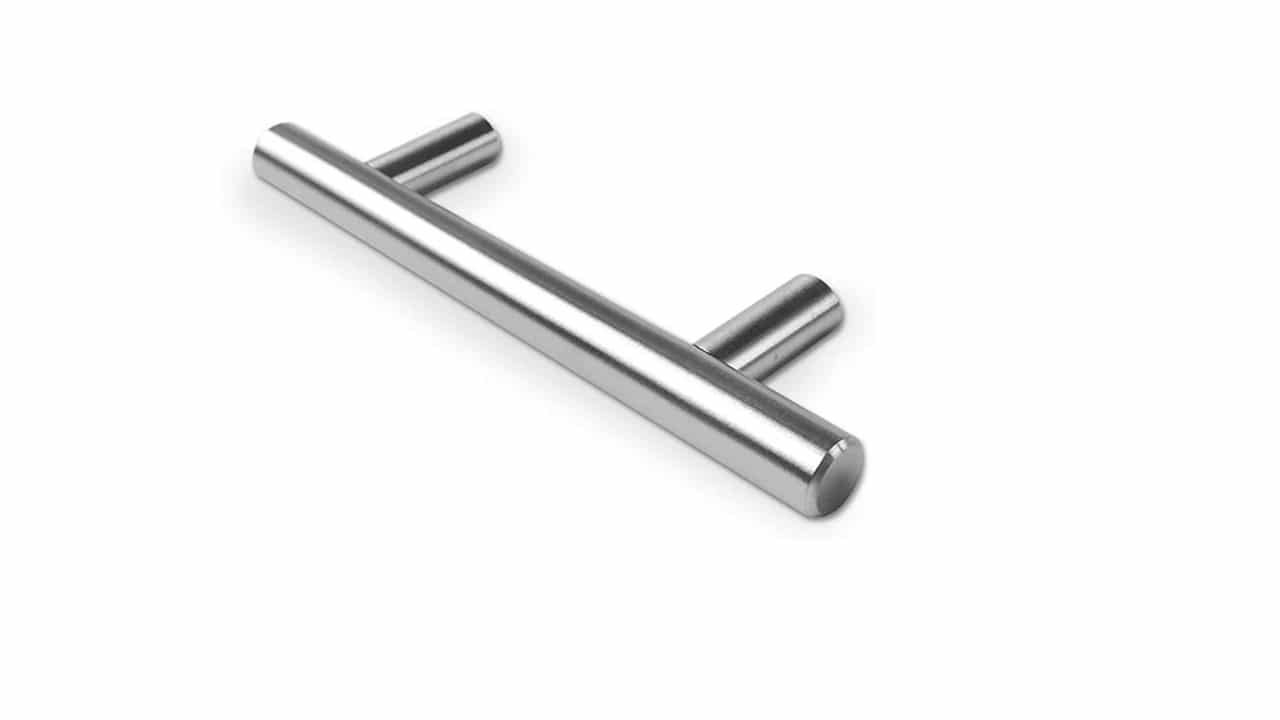 Colored enamel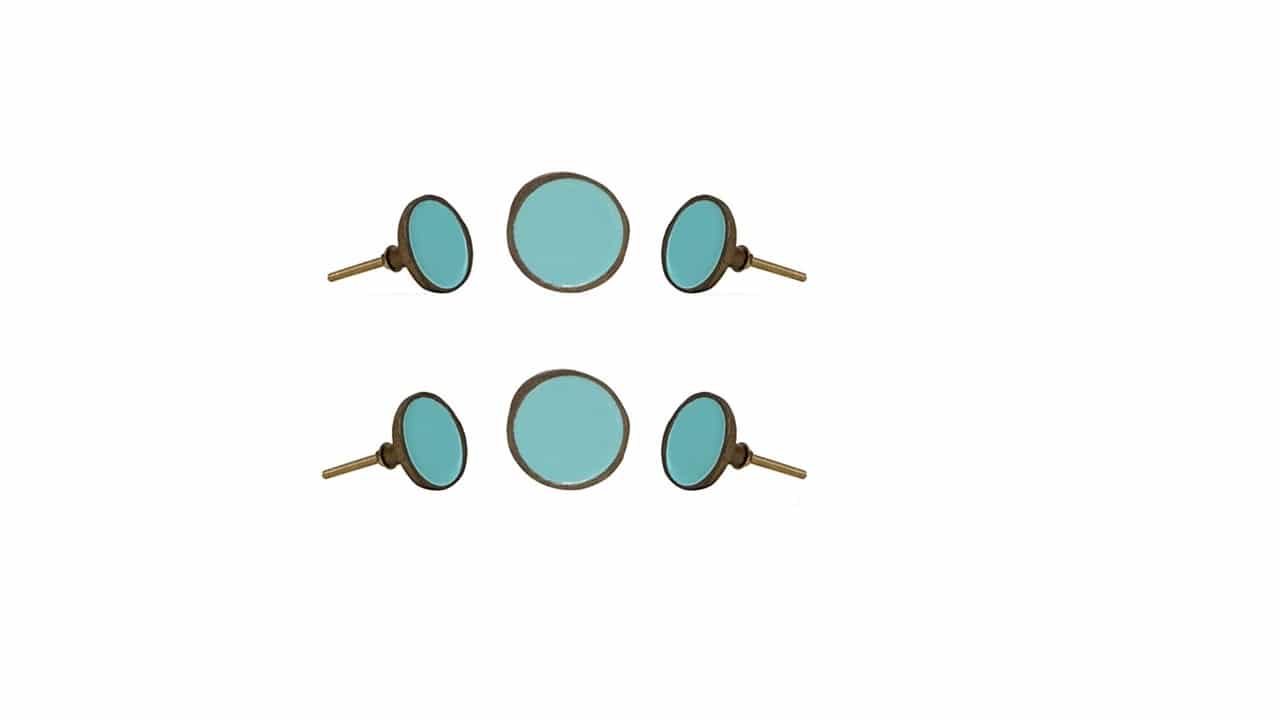 Wood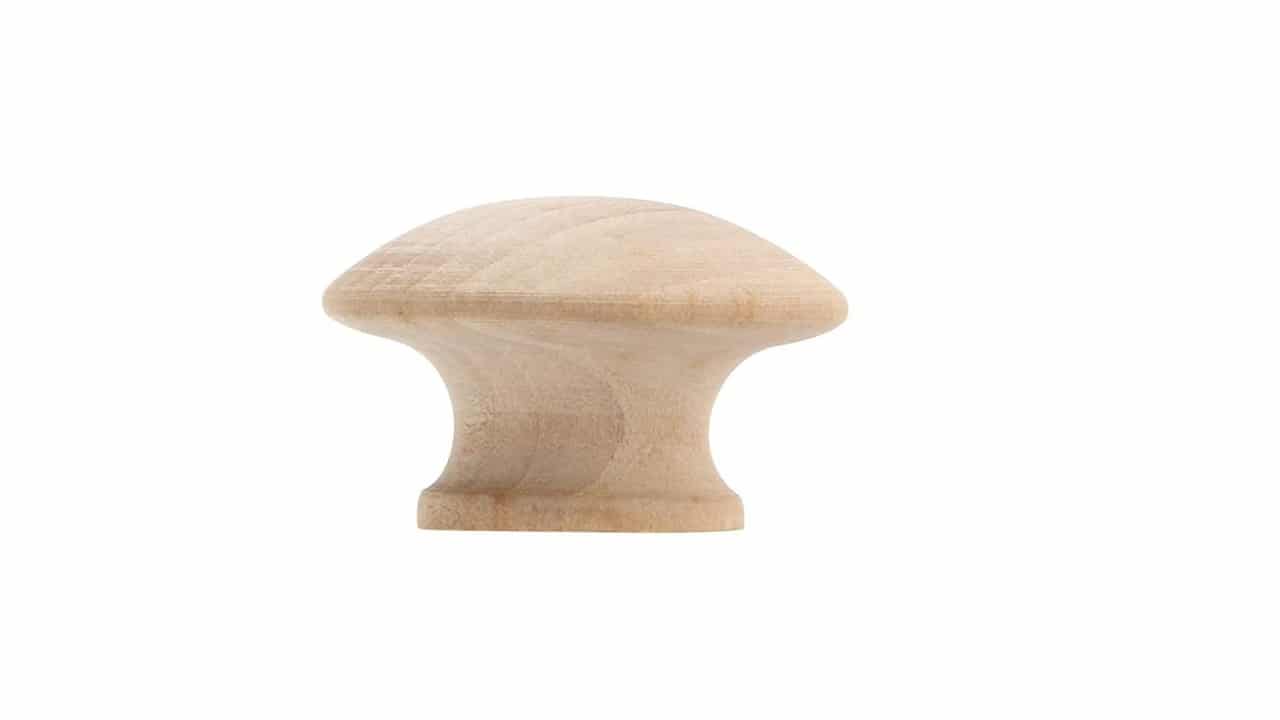 Glass or crystal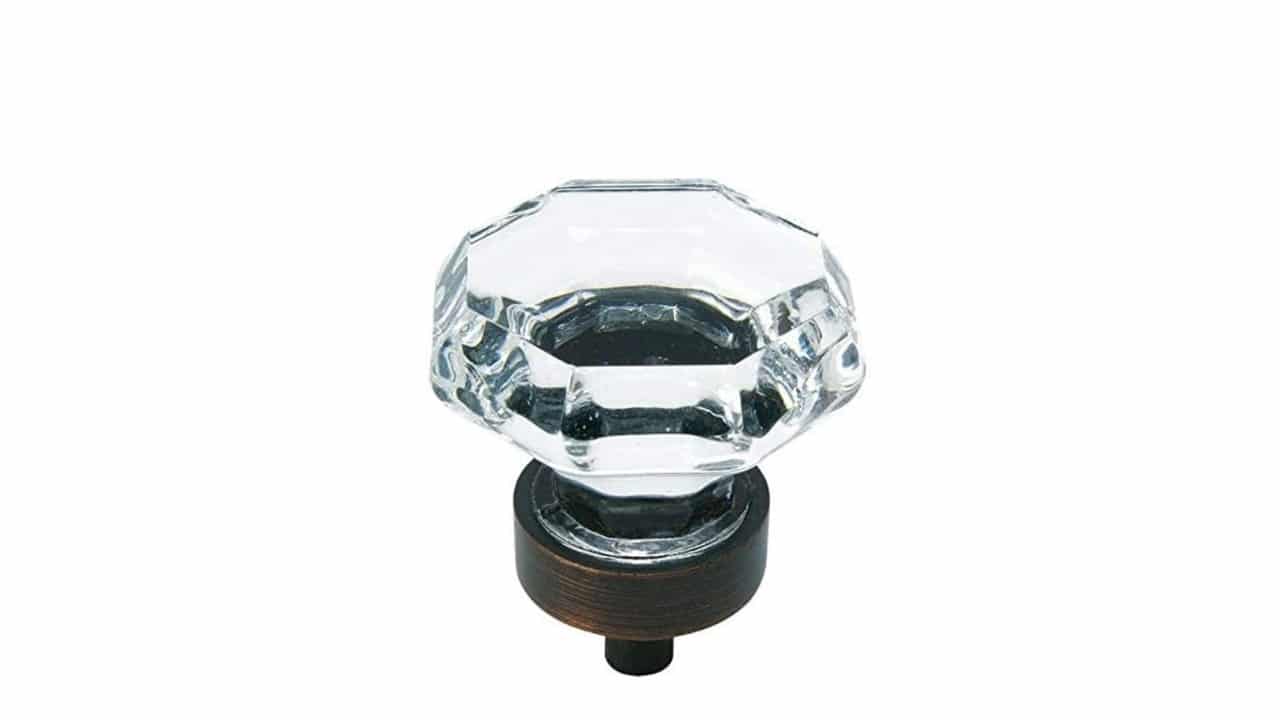 Metals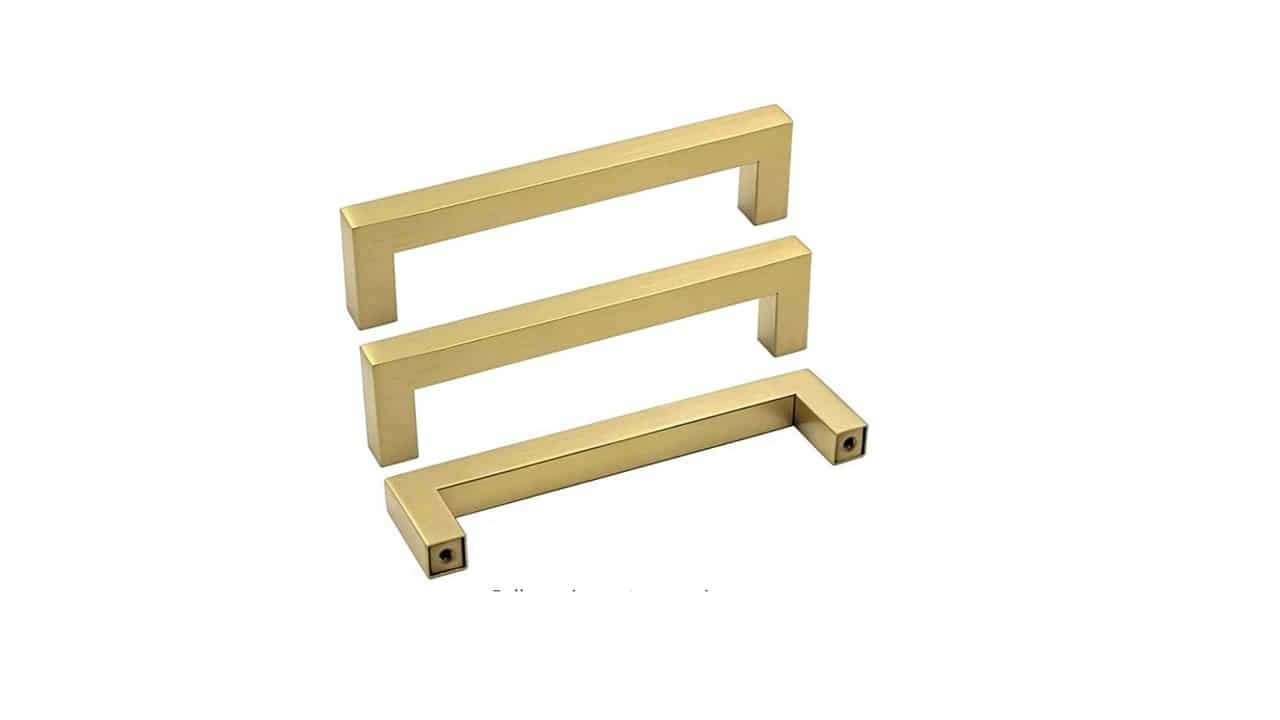 Stone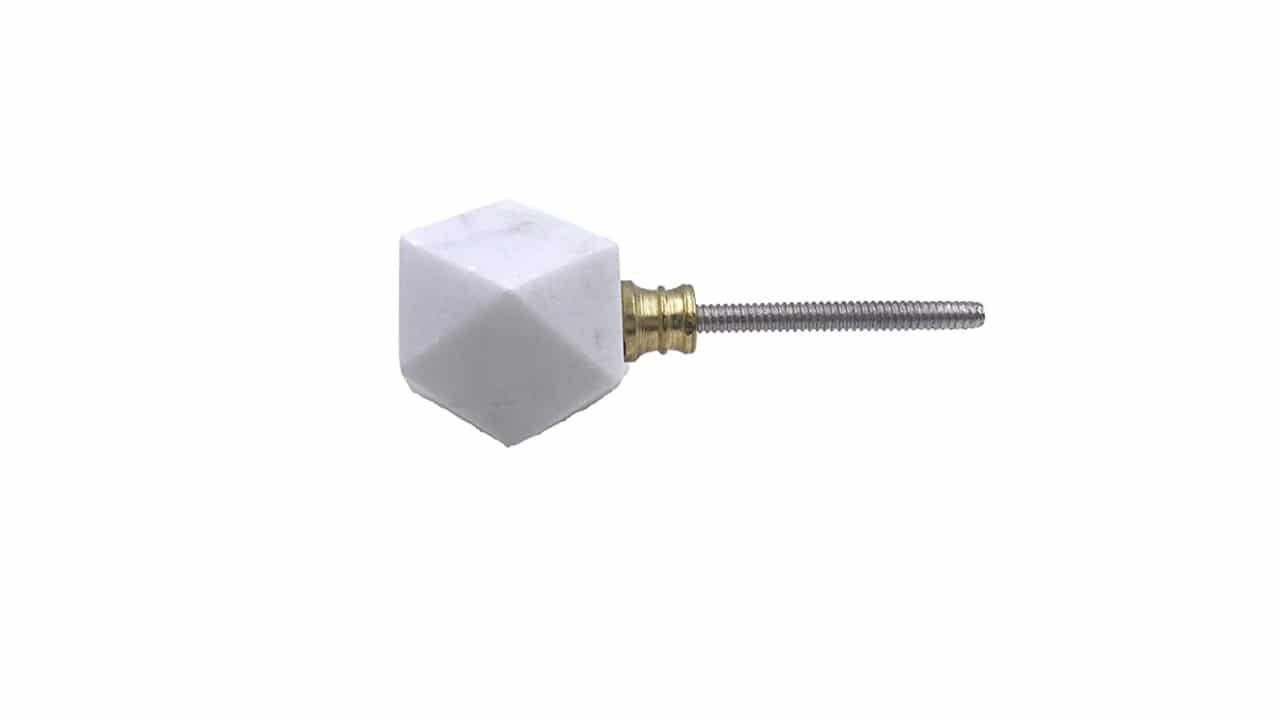 Porcelain and ceramic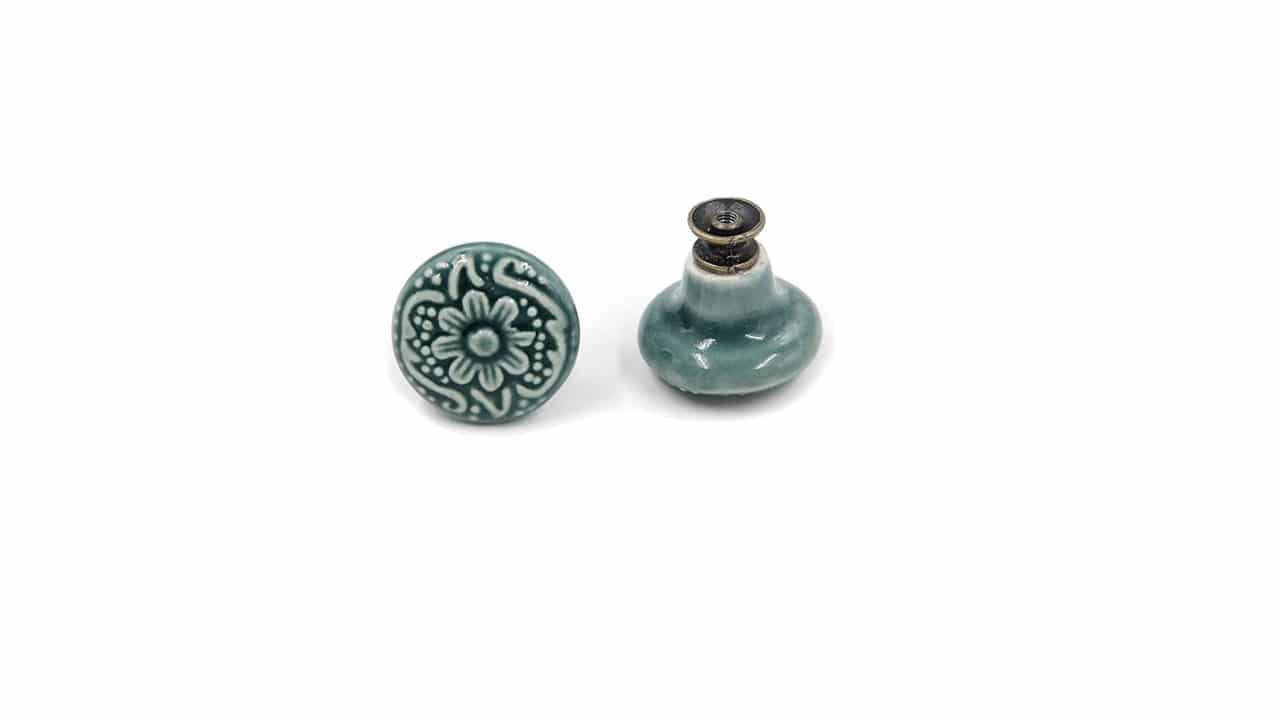 Placement
The best thing you can do to determine placement is remove the screw from the hardware and hold it in place on the surface to do a visual check. There are general rules for placement but you also need to like the way it looks. Do a dry run with a helper before you start measuring and drilling.
Here are some common rules of thumb about placement: 
To place a knob on a drawer: For drawers less than 24 inches, center the knob on the drawer front. For drawers wider than 24 inches, add a second knob by placing one knob at each third.
To place a knob on a cabinet: For upper cabinets, mount on the side opposite from the hinge 2-½ to 3 inches from the bottom corner. For base cabinets, mount 2-½ to 3 inches from the upper corner.
To place a pull on a drawer: For drawers less than 24 inches, center the pull on the drawer front. For drawers wider than 24 inches, add a second pull by placing one knob at each third.
To place a pull on a cabinet: For upper cabinets, mount on the side opposite from the hinge with the bottom screw hole 2-½ to 3 inches from the bottom corner. For base cabinets, mount with the top screw hole 2-½ to 3 inches from the upper corner.
Pro tip: On shaker doors, professional carpenter Ken Decost likes to keep the knob centered on the stile and inline with the height of the rail. If using a pull on a door, he keeps the lower hole inline with the rail.
Size
In general, knobs tend to be similar in size around one inch but consider the scale of the surface. If a knob looks tiny on a cabinet, a pull might be a better option. Cabinet and drawer pulls should be about one third the length of the drawer front and one third the length of the cabinet height, or at a 1:3 ratio. Here is common sizing for drawer fronts:
For 12 inch drawer fronts, use a 3 inch pull or a 1 inch knob.
For 12 to 30 inch drawer fronts, use 4 inch long pulls or a 1 inch or larger knob.
For 30 to 48 inch drawer fronts, use an 8 inch long pull or knob 1.5 inches or larger, or install two smaller pulls or knobs at the edges of the drawer to securely open and close with two hands.
Note: If you are replacing existing handles or pulls, measure the center to center distance between the two existing screw holes so that you only shop for pulls that will fit, 3 inches being the most common size. Center to center means from the center of one screw hole to the center of the other.
Hinges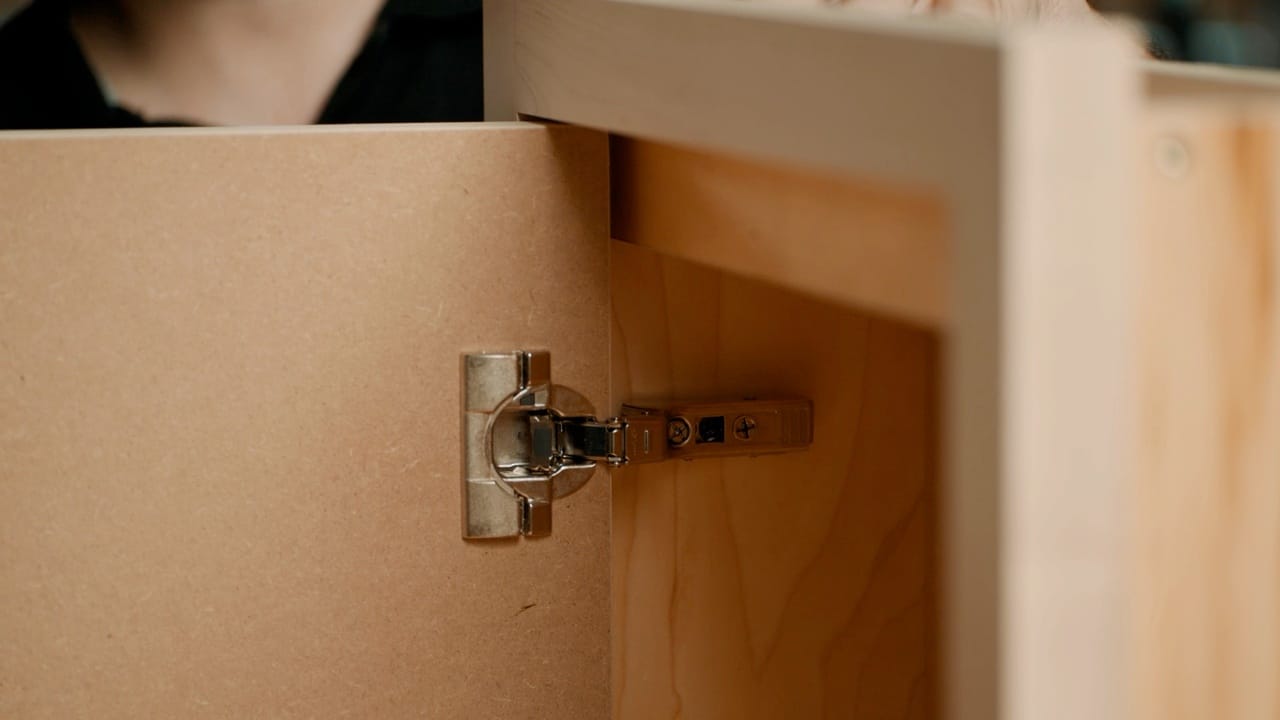 When it comes to purely functional hardware, you're mostly choosing whether you want any special features like soft-closing and whether you prefer exposed or concealed hardware. If you choose exposed hinges, coordinate them with the decorative hardware. 
When choosing the right hinge type , consider the door overlay style , whether you want concealed or exposed hinges, surface mount vs mortised installation, and any optional motion features.
Drawer Slides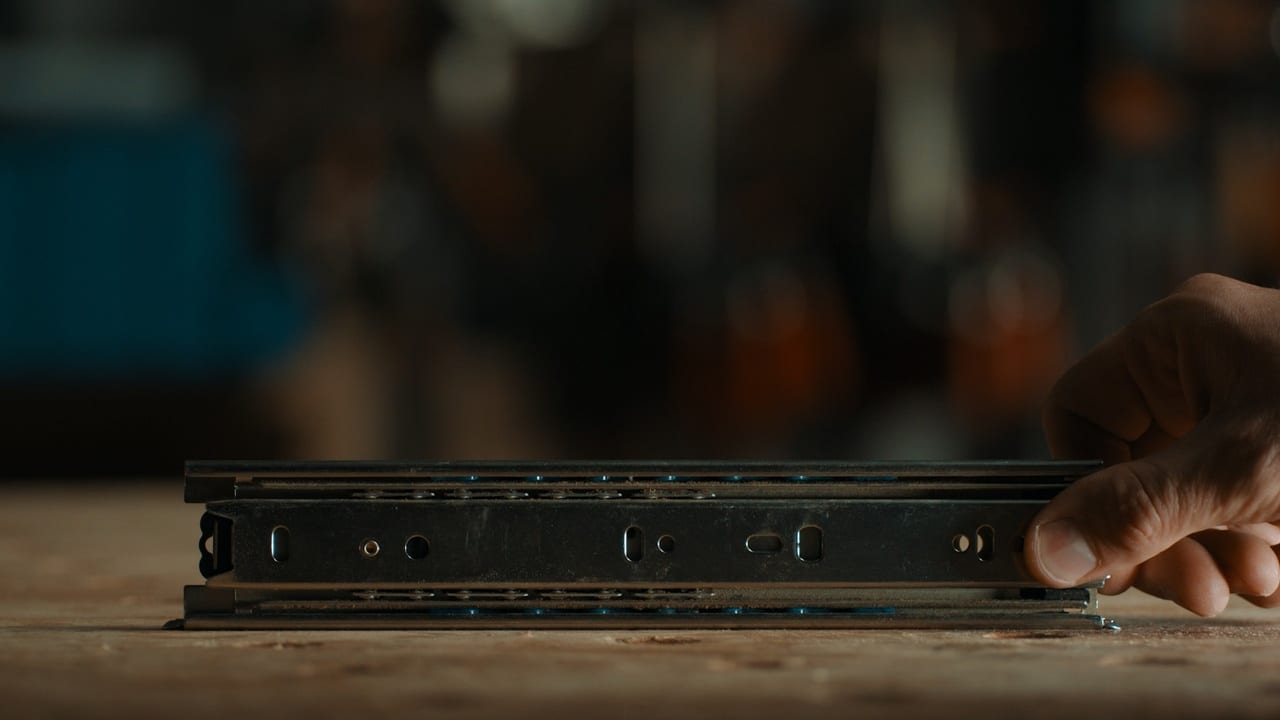 Drawer slides fall into the functional category of cabinet hardware but they should still match the style of the other hardware when possible. For example, if you choose concealed hinges, choose concealed drawer slides to match. 
The three main types of drawer slides correlate to how they are mounted—side mount, undermount, or center mount—and the decision is largely aesthetic. Beyond that, there are many different drawer slide manufacturers who offer optional features like soft close, slow motion close, locking, specialty finishes, or heavy duty weight ratings. Determine which type will function best for you and apply any specialty features you choose to your hinges to match.
Latches and catches
If you need your cabinets to close securely but do not have self-closing hinges or drawer slides, catches will do the trick. Latches will keep your cabinets even more secure because they require you to release them before the door can open. There are also decorative latches that are accessed from the exterior.
Common types of latches include:
Magnetic catches: Magnetic catches secure the door with a small magnet on the cabinet frame and a small metal plate on the inside of the door. They are easy to release because you only need to break the magnetic pull.
Roller catches: Roller catches have a set of rollers mounted on the cabinet frame and a catch mounted on the inside of the door. When the catch strikes the rollers, they pull the door in.
Safety latches: Safety latches come in versions that are installed in the cabinet interior and require the user to press down to release the door. There are also external versions that wrap around a set of pulls as well as child-proof options.
Decorative latches: Decorative latches are decorative hardware installed on the exterior of the door. They are common in traditional style homes and especially antiques.
MT Copeland offers video-based online classes that give you a foundation in construction fundamentals with real-world applications, like building cabinets . Classes include professionally produced videos taught by practicing craftspeople, and supplementary downloads like quizzes, blueprints, and other materials to help you master the skills.